Captain Lee Wehring USCG Licensed Captain Lee Wehring
Capt. Lee started fishing when he was 10 years old. His father, an avid fisherman, took the time to teach Lee all the techniques necessary to catch fish successfully. they spend hours on the shoreline and on the bays - talking and being a part of something bigger than themselves. For Capt. Lee, it was "love at first bite"! The more he fished, the more experience he gained until one day he could fish the best - catching trophy-size Redfish and Trout. He learned the waterways, channels and flats and by age 15 he knew those like the back of his hand.
About the Captain's Boat:
The boat ride is fun and you'll stay dry on a 2012 Haynie 24' Cat. This boat offers lots of room for fishing and can fish up to 6 people plus the captain... comfortably. Of course it offers fantastic capabilities for chasing redfish in the shallow water and flats but it can also handle the big rough chop of Baffin Bay too! Haynie makes one of the best all-around fishing machines for bay fishing and this one is powered by a 225hp Mercury motor.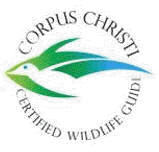 Member of
Coastal Bend Guide Association